Fair Lady AMS 29396-07

SOLD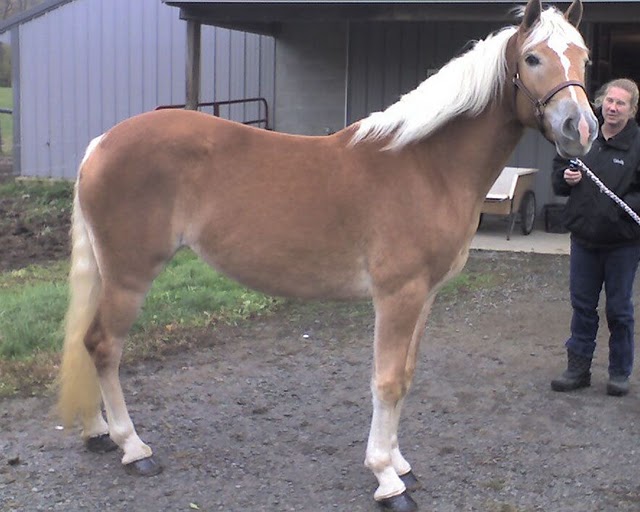 BARN NAME Finley. She is sired by the two-time National Champion, Aristique TOF http://www.wildhavenfarm.com/TiqueShows.htm Aristique is sired by the gold classified and former National Champion, Aristocrat TOF. Finley's dam is sired by Austrian import and former National Champion, Nobleman of Tudor Oaks. Midas Touch NTF, Strumer and Afghan II round out the pedigree. NO WONDER she is a Silver Classified mare!
Ducati TOF, Silver Classified, A Cn 29485, AHR#10944-98

SOLD
Sire: Saphir (Seespitz x Margi) Dam: Darina (Matador x Dunja)
http://www.allbreedpedigree.com/ducati+tof
Freya, dob 4/2/0/1999, AHR#13651-99 Classified Silver

SOLD
Sire: Nobleman of Tudor Oaks Dam: Fontana TOF
GITTLE ROA, (GRETTEL), dob 5/23/2005 AHR#26546-05


sold
Chaos OOS sold
Dob May,15 2003 Sire: Mighty Lynn D: Calla Rose OOS AHR#22042-03 15 hands 1100#
About 15H. Drafty and flashy. Tall and well conformed. This mare would cross well on most any stallion.
She has excellent hooves, straight legs and a nice stride. Now riding well under saddle for lunging, tarps, soccer,
trail obstacles and groundwork. Riding walk trot canter nicely. Excellent on trail. good for advanced beginner or better.
http://www.allbreedpedigree.com/chaos+oos

dam calla rose oos

sire mighty lynn
This filly is nothing short of fantastic. From her first day, she distinguished herself as something special. She has lovely color, head and expression, and conformation. A very snappy trot - fantastic for draft halter, driving and even energenic and light enough to make her a good prospect for performance - dressage and jumping. She is very sweet and has excellent manners. Her dam is a lovely mare - just stands out in any crowd. Calla Rose gave Chaos her lovely head and strong topline. Chaos's maternal granddam was bred by the long respected Chimpmunk Hill Farm. Her maternal grandsire, Alladdin Price, also made his mark in the Haflinger breed. He sired several successful show horses: including Confetti OOS, second as a yearling at the National show and grand mare at the Washington Co. Fair, Paradox OOS, 9th as a yearling at the National show and 1/2 of a 3X first placed in get of sire. Alladdin Prince's sire was the 1994 light National Champion stallion. Chaos's sire is a champion himself with famous ancestors: his sire, Michi Wulf, was a futurity winner and has gone on to produces many winners himself (including Mighty Lynn). Michi Wulf's dam, Nancy, is one of the first great performances Haflingers. Michi Wulf's sire also produced the first light National Champion stallions: Magenta Wulf. Mighty Lynn's dam is by one of the most important stallions ever imported to the U.S. Midas Touch NTF, by the famous "Midas," produced many of the greatest U.S. show horses. Mighty Lynn's full sister was a high seller at a fall AHR sale, selling for $10,000. Mighty Lynn himself has lived up to his pedigree: getting second as a yearling and 4th as a 2yr old at the National show, Grand Champion stallion as a two year od at the PHSO show, 2nd and Reserve junior as a yearling and first as a 3yr old at the HBO show.
Paradigm OOS sold DOB: 4/27/05 ahr #26325-05 14.2 measured 1050#
Sire: Nobelius (more info at www.grison.com) Dam: Paradox OOS
About 14.1H. Very nice mover. Mom was a halter horse for us. Roan in her coat. Nice attitude. Friendly, easy
going and gets along well with most anyone. paradigm is a sweet, kind mare. Started under saddle riding walk trot
Sire NOBELIUS has the following Silver classified offspring: Anka Lou SFF, Fantasy RWF, Gittle ROA, Guggi, Karolina GF,
Nunavik GF these would all be 1/2 siblings to Paradigm.
http://www.allbreedpedigree.com/paradigm+oos

Paradigm as a foal

sire nobelius

dam paradox oos

grand dam patoka oos
CALLIOPE OOS sold in foal for 2016, DOB 5/6/2001 AHR#17897-01 Sire: Alladdin Prince #4298-92 Dam: Chance OOS #7630-95 15 hands 1/2" 1100# http://www.allbreedpedigree.com/calliope+oos
Big mare 15 hands 1/2". 1250#, calm and gentle demeanor.
She likes people and has nice conformation and will produce fantastic foals! rides walk, trot, canter and has been out on trail. Currently doing small Endurance rides.
SIRE Alladdin Price is by the 1993 National Champion stallion, Aladdin Van Peelkant and out of the Austrian mare, Jolly by Waldprinz. His full sister, Jingle Belle DHM, was the high seller at the 1999 Keystone sale. His half brother, A Lotta Gold, was Reserve National Champion

Accassia sff sold dob 3/3/2003 ahr#21497-03
S: Wibo D: Adailia SFF 14 hands measured to withers 1200#
Talk about a top line that will stun you! Lovely neck connection, lovely shoulders, balanced through the loin, back and hips. WOW
Vayda CRHF sold
DOB-4/6/2004 Size-58" AHR#23733-04 1150#
Sire-Netscape (Nobleman of Tudor Oaks & Loria)
Dam-Vidual HOS
10 years old. About 14.2H. Very sweet. No training besides basic halter, hooves etc. Shown as a weanling. Really eye catching head and color. Now working under saddle for lunging, tarps, soccer, trail obstacles and groundwork.
http://www.allbreedpedigree.com/vayda+crhf

NATUR SOHN CRHF brother
Confetti OOS SOLD! thanks Sandra
Sire - Alladdin Prince Dam - Christie 56.5 " born 1996 14 hands
Shown in halter extensively until three, lunges ok when asked, and has had groundwork up to rider on her back. Had lot of babies. Lots of mane and a sabino
foals Chardonnay OOS DOB 5/18/2002 Sire-Nordan (Austrian import and silver classified), Attica OOS - Sire: Alpha TOF
http://www.allbreedpedigree.com/confetti+oos


son attica

daughter chardonnay

confetti march 2014

daughter contessa
Confetti is eye catching - a breath taking head and a mane and tail to put most stallions to shame. She is very balanced and feminine. All these traits along with excellent conformation and strong movement led her to be one of our most shown horses. She got her start as a yearling, getting second at the National show (first ended up being the now super mare, Rivella TOF). She got seventh as a two year old. At three she got fifth in three and older draft mare at the PHSO, and she got first and grand champion mare at the Washington Co. Fair.
Confetti's mother, Christee, was the first haflinger in the state of Pennsylvania and the first Stardrift daughter. She, like her daughter, was very striking and often had offers made on her by other breeders.
Chrisma's Carrie JRMH dob 5/2/2005 ahr#26116-05 Sire: Major's Commandant KH Dam: Chrisma WKH sold
This mare is the perfect youth or small adult dressage horse. She jumps, rides, drives and is neat and clean.
What a lovely girl. Shown dressage and jumping. LOVES cross country. Chrisma's Carrie is a forward moving horse that enjoys riding. She will go western on a loose rein. She is more a adv. beginner rider or better as she
listens well to leg and seat so beginning riders need to be in lessons to learn what they are telling her in order to
not frustrate themselves. She has many months of professional training and WILL take you to the winners circle.
Chance OOS ahr# 7630-95 Dob 6/2/1995 (M.T. Magon NTF x Cheyenne Star) IN FOAL to World Class for 2014
Dam of Caliope and Corriader, Walter and Cupie Pie
Pictures: https://picasaweb.google.com/115905076579150411995/Chance?authuser=0&feat=directlink
Mari Jo (Buttercup) dob 2001, ahr# 18110-01 Sire: Whistlestop of Rockport Dam: MAIDLY 7579-95 SOLD
All I can say is wow. She is my favorite color, dark red. She is a proven kids horse for riding or driving. Just a
lovely beginner friendly mare who will easily walk, trot and canter with no fuss. She is STOUT! She may be short
but she takes up leg on any adult rider and is easy to get on and off when riding trail.
Angel's Touch RVA, AHR#26282-05, DOB 5/11/2005, (Antique Lace NTF x All American Afghan NTF) sold
Angel is a big mare and a DARK red coloration. She stands 15.1+ hands and is very refined with a lovely long low stride. Nice knee and hock flexion and smooth to ride. Angel has been taught to drive double and we are working with her so she is comfortable driving single. Top it all off with her natural looks: a sculpted head that is delicate and very feminine and her DARK red color with a perfect white mane and tail. Now....add in that she is the daughter of Silver Classified ALL AMERICAN AFGHAN NTF. Angel's dam is also 15 hands and the daughter of MIDAS TOUCH with her grand-dam's sire is AFGHAN II (World Champion). Her grand-dam Arnika NTF is the full sister to World Champion Haflinger stallion AMADEUS.
So if you are looking for the most beautiful color...., beautiful conformation...., world champion bloodlines and smooth athletic movement HERE SHE IS!
Pictures: https://picasaweb.google.com/115905076579150411995/Angel
Sharhara WKH, AHR#12864-99, dob 1999, (Witchl x So Sassy)
Solid built mare with a nice walk, trot, canter, whoa. Drives like a dream. Swims! trail rides, arena rides.
has a nice SLOW walk and trot when asked but will also move out without fuss. EXTREMELY wonderful mare.
Dam of Sophia and Shanelle. She is a good mother, easy to work with and is has a sweet temperament.
Grant County Lady LCO, AHR#7819-96, DOB 1996, (ALF HFB x Gumdrop HWH SOLD
Talk about foundation bloodlines. Lady's dam and sire are both 1988 horses and you won't see her style
of horse very often. She has bling! White blaze, white socks and DARK red coloration. She stands 14 hands
and is stout, feminine and pretty to view. Lady is well trained to drive and ride. She is a good horse for a kid
who wants a horse with energy but obedience. Not a dead horse walking but knows WHOA and is excellent on
trail. Drives well but with some snap. Has LONG strides and would be a nice show mare.
Desiderata TLF, dob 3/2/2012 AHR# Sire: Stately LF Dam: Ducati TOF SOLD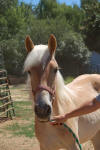 Riata is her barn name. This filly has always been a star of the hafy group until something shook her confidence and now she
has a fear of items behind her so she will not make a driving horse. Riata will need a special owner who will continue to work with her on
her fear issues. She needs a confident and caring owner who is NOT a beginner with horses. Riata leads, ties, loads, carrys a saddle, started
lunging and groundwork. Started working on toys. She is hard to catch if allowed in a field, it takes treats. In a stall she is better behaved.
Riata is a true athlete with both parents being well bred. Dam is Silver Classified and has produced foals that reside all around the world.
http://www.allbreedpedigree.com/cgi-bin/q?h=desiderata+tlf&g=5&output=pdf

Darby, dob 3/13/2011 Sire: Anakin TLF, Dam: Canbest Carla, NOT REGISTERED, SOLD

Dark red, long legs and gorgeous. already started under saddle and doing great! Dark red, long legs and gorgeous. she stands 14 hands and is still growing. Haflingers grow until age 6. Her sire was born at our ranch. Her grandma was owned by us and then moved onto a lovely therapy center. Other grandsire is Silver classified and lives in Colorado.


LB's Foxfire Mist, dob 8/8/2006 AHR#27651-06 sold

Slurpy TLF, dob 3/25/2009, AHR#31400-09 Sire: Samurai of Green Mountains Dam: Ash Wednesday HFB sold

Fallon, dob 4/1/2010, AHR# Sire: Socrates Dam: Fancy Fraulein deceased

Macey, dob 3/9/2010, AHR# Sire: Dam: Misty sold to Barbara from Oregon

Macey is out of a goregous DARK colored mare we barn named Chocolate. Her sire is
a nice "N" line stallion that is back east. I have never met him. We purchased Chocolate
in foal with Macey. Macey will be started this spring.
Gracy's Love EMS, AHR#29884-07, DOB 3/29/2007 Sire: Stately LF Dam: Gracious Ladibelle SOLD