New Additions to Top of the Line Farm
BABIES! BABIES! Everywhere...

Come out and take a look at our babies, most are for sale. Our Haflingers represent the best
available bloodlines for Haflinger horses. All foals are sold as registered.
If the foals is a Filly they are sold with completed DNA records.

Meet Copper and Perry (owned by Kelly Manas)
born March 2006

Perri

Meet Alice and Andy
They are owned by Teri and her daughters and this is their first Haflinger, Congratulations!

Cinderella is now living with Carina
She just had a lovely filly by Waldemar on March 23, Carina was very happy that the weather was good in Canada that day

Crystal is owned by Leanne
She gave birth to a beautiful filly by Waldemar in March, Congratulations Leanne!

Cayenne is Crystal's new daughter's name

Ceyla and Charmain born 3/28/06
Ceyla and filly
This pretty pair belong to Christine Level, Charmain is for sale at $3800, top Silver classified mare and ARNO is the sire

isn't she gorgeous! Congrats to her owner Christine Level!!

Colts will play!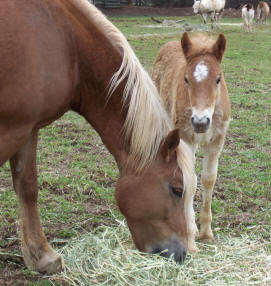 Copper and Perri

Meet Jackie, she was born 4/9/06 FOR SALE

Ceyla's filly filling out

Cherry is Cinnamon's filly born in May 2006
Click here to see our Stable Cameras
Click here to see our other expected foals
Click Here to see our foals from 2005