Arnak NTF, ahr#13201-99, 14.3 dob 5/18/1999 SIRE: Nasdaq NTF (Nastral x Wanja), dam: Arnika NTF (a cn 23684) 3093-90 [afghan II x Akelei] http://www.allbreedpedigree.com/arnak+ntf
Wanja and Akelei are full sisters so Arnak NTF is linebred "A" line. Dam is a full sister to World Champion stallion Amadeus. Sire is one of the best moving stallions ever found in the United States. Nastral is a German Champion stallion whose offspring were seldom found outside of Germany.

dam of Waltzing Storm SGH 4/25/2008 (Walzing River)
dam of Angela HOF 4/14/2013 (Standard of Excellence TOF)
dam of Start Celebrating 4/25/14 Standard of Excellence TOF
dam of Samurai's Ninja 5/22/15 Samurai of Green Mountains https://picasaweb.google.com/115905076579150411995/Ninja?authuser=0&feat=directlink
dam of Adriana 5/9/2016 Sky's the Limit WSF
(open 2017) in foal for 2018 to Sky's the Limit WSF
Ana is trained to ride and drive. She is bred to Sky's the Limit WSF for 2018
Granddam Akelei A 13391/T, mother Arnika NTF 3093-90,
and Arnak NTF 13201-99.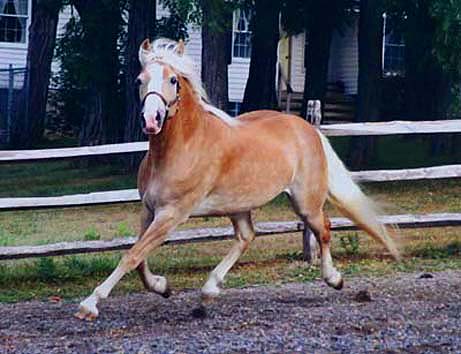 Akelei x Nizas also produced Anemone II YES in 2002 , silver classified 78 pts:
Akelei x Afghan II produced both Arnika 1990 (14.2), Amadeus (152 cm) and Alpenflieder 18739/T
Akelei x Archimedes produced Alpenstein 1992, Aurikel 1991, and Alpenveilchen 1997
akelei x Nestroy = N-Falko,
akelei x Alp = Astral II 1995,
akelei x Amsterdam PrH. = Aisha 2005, Alisha 2003
Arnika NTF has produced Antique Lace NTF (Midas Touch), Akelei NTF (Nobleman of Tudor Oaks) and Modern Design NTF (Midas Touch),
all 1/2 siblings to Arnak NTF
The Amadeus line (full brother to Arnika NTF) Results of World Haflinger Exposition 2005 :
12-25 yr old stallion class : Won by Amadeus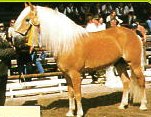 8-11 yr old stallion: Won by Amadeus son Abendstern, also won World Champion Stallion

6-7 yr old stallion: Won by son Avalon
4-5 yr old stallion: Won by grandson (son of Abendstern) Auretanius ,
second place to Amadeus son Almquell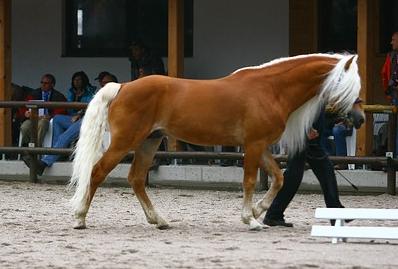 3 yr old stallion: Won by son Anthony 312/T amadeus x Lareina,


also won Reserve World Champion Stallion
2 yr old stallion: Won by Amadeus grandson Wienerwalzer (maternal side)
Other stallions by Amadeus that are classified and approved as breeders include: liz.183/T Aghai, liz.233/T Altess, 222-9189-94 Amethist, liz.312/T Anthony, liz.336/T Apetlon, liz.249/T Avalon, liz.300/T Avantgarde , Amsterdam 151 cm 1A classified (ankara{stomboli x alexa} x amadeus 1996, ammersee (amadeus x Nina A) Aberlord (amadeus x Vidi) Amstrong (amadeus x Cleopatra) , Alcantara (amadeus x Famosa), Abendstern (amadeus x Dorlis)
Amadeus' performance as a producer of fine mares is truly outstanding:

His daughter Domatteo was named World Champion Mare 2005

His daughter Antonella, 79 pt silver Classified

His daughter Fiorelina, 77 pt silver classified
His daughter Fiona-Farah, 80 pts Silver Classified

his daugher Sowina, 81 pts Gold classified

Mona-Lise TOF (silver classified)
Sydney-Sara wulf
other mares: Atollari 18277/T (amadeus x Annette) Farosa (amadeus x Felicita 12223/T), Fontana TOF (amadeus x felicita 1995), Biery TOF , Armenia Cntry Rd (silver classified), Louvre 17398 (amadeus x leila), , LORETA NTF,